Education for Horticultural Therapists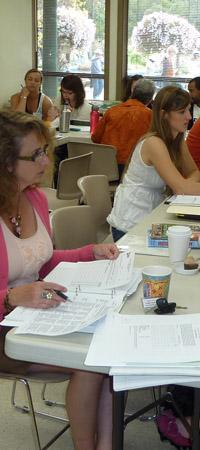 Academic coursework is the foundation for those considering a career in horticultural therapy. Horticultural therapy education is multidisciplinary and encompasses studies in human sciences and plant science, as well as horticultural therapy concepts and techniques.
Plant science and human science courses may be taken at a college or university or as an online course. Coursework may also be met through obtaining college credit for related work and/or life experience. Please refer to Credit for Work/Life Experience for more information about this option. Horticultural therapy coursework is available through an academic degree program or through an AHTA-Accredited Certificate Program. It is advisable to review the requirements for professional registration prior to selecting an academic curriculum.
An internship is a critical component of horticultural therapy education and the basis for on-the-job training. An internship provides opportunities for students to further develop their skills and clinical experience while being supervised by an experienced therapist. Internship supervision helps to improve a student's ability to deliver horticultural therapy services in a safe and effective manner.
To find the courses and locations of educational options, see the list of certificate programs and the list of university programs that offer coursework and degree programs that focus on horticultural therapy. Course descriptions, registration requirements, and tuition costs vary widely depending on the institution.
---
AHTA-Accredited Certificate Programs
Horticultural therapy certificate programs* are instructional programs for college credit that are designed to provide a foundation in the theory and application of horticultural therapy for diverse populations. In accrediting these programs, AHTA assures that the program meets nationally endorsed standards in the profession, and meets the horticultural therapy requirements for AHTA's voluntary professional registration program.
Accreditation further assures that the program achieves designated outcomes for the institutions as well as AHTA's educational requirements and is consistent with their respective goals and objectives.
In accrediting a certificate program, AHTA recognizes horticultural therapy coursework directed by a registered horticultural therapist (HTR) with a minimum of 3 years of professional workplace experience in the field of horticultural therapy.
To apply:
Before applying to have a program accredited by AHTA as an Accredited Certificate Program, review the Policies and Procedures.
Complete the online Application Form to have a Certificate Program accredited by AHTA
To renew or submit changes:
*Note that graduates of certificate programs are not 'certified' horticultural therapists. They receive a certificate of completion of horticultural therapy coursework which, if accompanied by the affiliated college or university transcript, will be required should they pursue professional registration with AHTA.
Program & Course Listings
AHTA-accredited horticultural therapy certificate programs
AHTA-accredited horticultural therapy course schedules including course dates and names
College or university programs that offer at least one course in horticultural therapy