Russ Coile Lifetime Achievement Award - Clare Cooper Marcus
Congratulations to Clare Cooper Marcus, who was recently presented the Russ Coile Lifetime Achievement Award at the 2019 Healthcare Design Expo & Conference!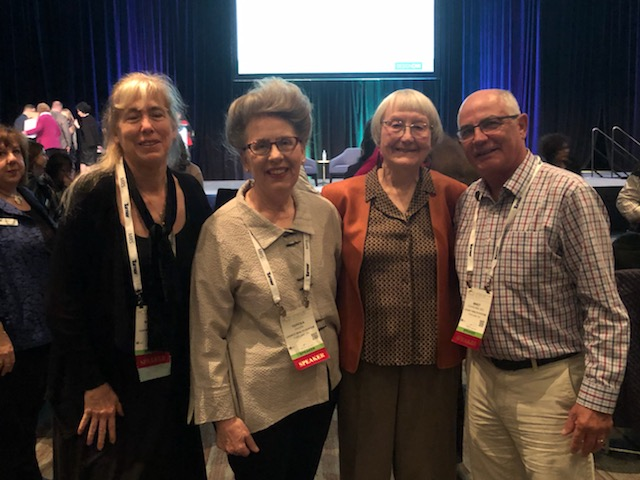 Read her acceptance speech below:
Clare Cooper Marcus
Lifetime Achievement Award
November 4, 2019

It is a great honor to receive this award. My thanks to the Center for Health Design and all that it stands for. Twenty-five years ago the Center consisted of one room in a modest suburban house with two employees, one being Debra Levin. By some fluke of good luck, at that time I was awarded – along with graduate student Marni Barnes – a small grant to look at the effect of gardens in hospitals. That was the start of work that has become my passionate area of concern ever since. And that work on healthcare gardens  – my writing, consulting and teaching – has all taken place since I retired from Berkeley. So – for those of you who may be worrying about - "What will I do when I retire?" – there is plenty of work to be done!

But I want to take this opportunity to remind myself – and those of you listening – that a garden providing solace and spiritual healing in the midst of a stressful healthcare setting is a microcosm for something much bigger. We are living at a time when the planetary garden which is our home is under enormous stress from climate change; under  threat of actual survival, and we with it. I salute many of you here who work to create more sustainable hospital buildings, saving water, saving energy, saving materials. There are many besides me – such as Naomi Sachs, Teresia Hazen, and Mardelle Shepley – who are working to support and nurture the presence of gardens in healthcare. Let us hope that those who experience in these gardens the beauty of the natural world will expand that sense of wonder and concern for the whole world of nature that surrounds and supports us on this beautiful planet. The microcosm of the garden is but a small but critical reminder of the earth-garden that provides our food, our water and air, our spiritual guidance, our very life. As that remarkable young climate activist Greta Thunberg has reminded us: We urgently need to care for our planetary home; time is running out.

Thank You.
Share this post: